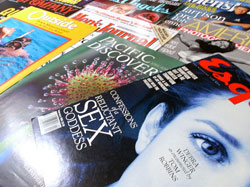 The world of advertising has changed. Consumers are becoming more tech-savvy every year and like to be in control of the kind of information they are consuming, in what form and at what time. In this blogpost we propose a modern method for reaching your target audience. A method that is both unintrusive as well as cost-effective. We're going to talk about deploying your own digital magazine.
By starting your own digital magazine you are in fact joining up with the latest trends in content marketing and content curation. And while this may seem complicated, expensive and overwhelming it's far from it. In fact it's easy, you don't need to hire specialized writers and your magazine can be up-to-date in just minutes a day. With the right tool set you can become a content curator, and comment on what's happening in your market, via a digital magazine.
Earlier our world was lovely uncluttered
How did advertising work about fifteen years ago? Our example is a fictional company called PetroPomp BV that manufactures pumping equipment for the petrochemical industry. PetroPomp's marketing department would get together with their advertising agency to translate the brand's image into media statements.
Those days you could choose between radio, television and (paper) magazines. Especially companies that operated business 2 business choose magazines to reach their potential clients. Just like in the business 2 consumer market many niche-focused and/or audience-focused magazines exist. The publisher has the profile of the average reader available to facilitate your choice.
For PetroPomp BV the world seemed like a very structured and organized place. Once a year they participated in an industry trade show. And regularly they advertised in a national and international journal for the petrochemical industry professional. These magazines were published monthly and anyone who was related to the industry in any way was reading them. The technical journalists employed by the magazines made sure they informed their readers about the latest developments in the industry.
In addition PetroPomp BV sent a bulletin, by snail mail, to every relevant contact twice a year. This bulletin informed current clients and suppliers about new hires, company results, and regularly featured interviews with the CEO and CCO of the company. A few suppliers might advertise in this biannual bulletin to slightly reduce production and distribution costs.
As you can see it used to be fairly easy to reach the right audience as long as you had a budget for advertisements and trade shows.
These days fragmentation and confusion rule
We are now fifteen years later. The big trade show has been cancelled because of too few applications from exhibitors. The Dutch magazines was terminated two years ago and currently only has an internet presence. The international journal is now released quarterly instead of monthly and in reduced format. The biannual company bulletin is gone as it appeared no one was actually reading it. So… PetroPomp BV has a problem! The marketing department of PetroPomp BV must answer an important question: How do I reach my target audience that is now using a wide variety of channels.
The industry magazine's website is lively but in the past years numerous blogs and websites have started publishing on relevant subjects. Industry specialists now write on their own blog and are no longer employed by that one big publisher. The target audience has different expectations, needs and priorities. They read a wide variety of blogs, not just one you could be sure of, and it becomes more difficult to find the best target to advertise on. Should PetroPomp advertise on industry blogs? Use Google Adwords? Or place sponsored Facebook and Twitter updates?
If you struggle with the same I encourage you to continue reading, but before we go on let's list a number of statements that we need to agree upon first:
Clients will buy more easily from you when you're perceived as a thought leader.
Social media and the internet force companies to be transparant, relevant and honest.
The efficacy of an advertisement campaign is strengthened by repeated exposure to the same message.
People basically don't like or trust advertisements.
People are growing attached to their smart phones and iPad.
Why not start your own industry magazine?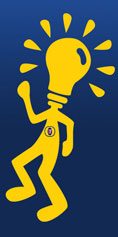 In part two of this article we're going to show you how to start a digital magazine.Maintaining an industry magazine used to be both time-consuming as well as expensive. For instance, one had to employ journalists to gather content. Also distribution costs were involved. But there's a solution to all that and you'll see that having a digital magazine is not that difficult. In fact you can be live within a few days.
Learn more about creating your own digital magazine »
Continue to the second part of this article »

This article was first published in Dutch on FrankWatching.
Foto credits: magazines, light bulb