Why would you want to find digital influencers?
As more and more people start using Twitter the relevance for companies is rising. Word of mouth is becoming a tangible form of consumer influence and businesses will be creating and using their own Twitter account to tap into this. Now everyone is getting connected on multiple platforms word of mouth is even stronger and potentially more viral than before. While some companies have learned about the strength of this via negative experiences, such as Dell in 2005, you have the opportunity to be proactive about this and start today.
How is digital influence defined and measured?
Some people are Twitter "veterans" and have built up a large amount of highly engaged followers. Whenever they tweet something, it's regarded as important and it has a higher chance to get retweeted by their followers to become viral. It's all a matter of "who" says "what" to "whom" and it could have an impact on your brand sentiment. We call these people influencers or digital influencers and its one of the hottest trends in social media to identify and engage them.
What is digital influence really? Many companies – like Klout, Kred and EmpireAvenue for example – are trying to measure digital influence and social capital via different methods without a shared definition. A report "The rise of digital influence", by Brian Solis from the Altimeter Group, recently shed some light on this matter.
Definition of influencers
"Influencers form strong unions with like-minded individuals within social networks and fortify those connections with value and meaningful interaction. These influencers are individuals who may possess the capacity to influence based on a variety of factors, such as a substantial or concentrated following in social networks."
Now let's see how one can measure this. According to the Altimeter report the best formula should take three components into account.
Foundation of influence
Digital influence has a foundation that is built on three pillars: reach, relevance and resonance. It helps you to understand this model since it will help you identifying the right influencers for your business goals.
Reach: a measure of popularity, good will and potential impact telling how far information will travel across the community.
Relevance: a measure of authority, trust and affinity telling whether the subject is focused.
Resonance: a measure of frequency, period and amplitude telling how long an update can stay alive in the social streams of online users.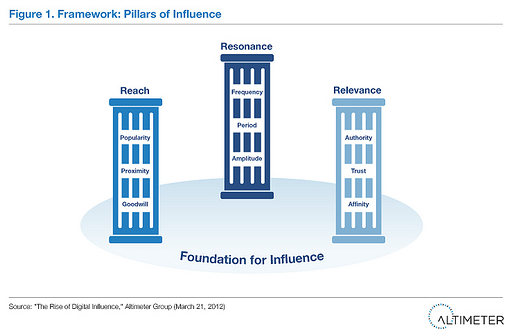 How do you find digital influencers or domain experts for your niche?
You can use BuzzTalk to find relevant influencers in your field and sort them based on their Klout score. Klout is one of the companies quantifying digital influence based on over 50 variables with an algorithm that involves three separate stages of semantic calculation: True Reach, Amplification Probability and Network Value. Klout also introduced +K, a user-generated feature for boosting your score based on relevance and authority.
Take a look at this example where we identified twitter users influential for the brand KiKa (a charitable organization that is raising funds to find cures for child cancer).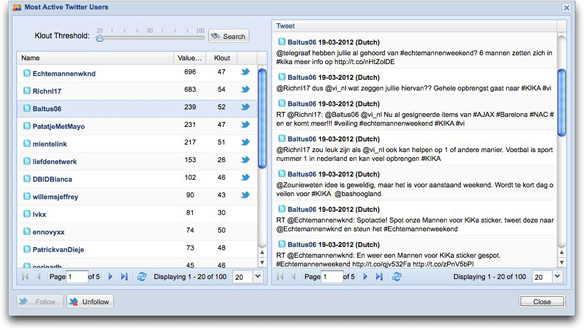 As you can see in the screenshot above several twitter users were found that are already mentioning KiKa in their tweets. You can show users with a Klout score higher than 20 (the average Klout score) or any number you choose, sort them in descending order and look at their latest tweets.
Keep in mind though that "influence is a complex subject and not one that is computed by a standard formula to reveal an absolute score", says Brian Solis in his report. "Scores are nonetheless valuable to your organization".
What to do next?
Your first step should be to start following them on Twitter. Start reading their messages and get a feel of what's important to them. If you resonate with a Tweet of theirs, be sure to retweet it and give them credit. They will notice you mentioning their name. You can also participate in conversations which will be the next step in engaging them. In this way you'll be influencing the influencer.