Reputation management is about two key factors: understanding your brand and influencing your brand to reach a positive reputation. You want to be a trustworthy brand for your clients, prospects, business partners, stock holders, journalists, co-workers and prospective employers.
Marketers used to control the conversation, but now power shifts to the crowd
Traditional media such as radio, TV and print are expensive. They used to have our attention as advertising on these media was expensive so there was not a lot of competition for attention. With the rise of the internet there is a lot more competition for attention. Also, the customer controls the conversation as blogging and social media gives every internet user a voice. To manage your reputation you need to be on the platforms the audience is.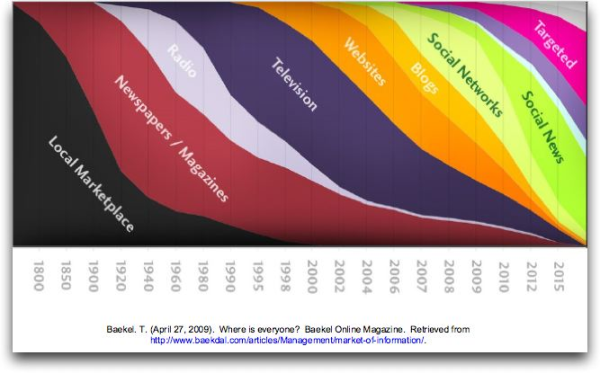 It's not about who you are, it's about how others perceive you. Your online reputation is the perception on the Internet that others have of you based on your digital footprint. It's in the content your create and share but also in the content others create about your and share online. So basically anything that shows up in search results (text, images, movies, tweets) related to your brand is part of your digital footprint.
And there is something special about the internet that's relevant to your online reputation management strategy. It's the potential that something goes viral. The crowd has gained power as now everyone is connected and communicating with each other. A negative tweet or blogpost has the potential to become viral, depending on the person who wrote it, how many readers or followers he (or she) has, how often he's retweeted and by whom, etc.
Start listening to the crowd
Traditionally companies sent out questionnaires in which the target audience answered specific questions. Listening to the crowd is completely different in that it's about spontaneous reactions from known and unknown people. This way you get information about subjects you may not have thought of when preparing your questionnaire. You can engage in the discussion and ask for details which is not possible when sending out questionnaires. Also using online media monitoring you get information about you that was not directed to you. In other words, you get to listen to the spontaneous conversations between people in your market.
You can learn about your brand image by listening to what is being said in social media, blogs and news sites. Monitor the overall sentiment and compare this to your competitors. You first need to establish where you are now, define a plan to make changes and monitor how well you are doing. Monitor company names, brands, products and high profile employees.
You can use BuzzTalk to do this and see where you are being found on blogs, news sites tweets and other sources. Immediately you can see the total number of publications per week (or day). For each publication the type of publication is determined, the sentiment as well as the mood state (if detected). This will give your starting position which you can monitor in time. It will also show whether your reputation needs building or fixing. Below you see one of the graphs in BuzzTalk showing the number of publications per week and the sentiment.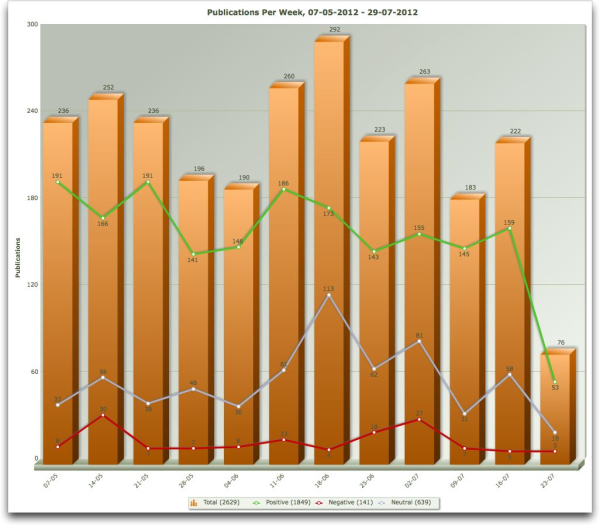 When you listen, you can respond and build an online reputation
A positive reputation is a lot about communication. In contrast to the old days, this now is a two way street. Make sure you are accessible so people can effectively communicate with your business. Display accurate contact information on your website and be responsive so people won't go to Twitter being frustrated.
If you're proactively listening, online media monitoring works as an early warning system. If persons speak negatively or angry about your company or brand you'll notice this much earlier if you listen. Reach out to the publisher or engage in an online discussion via blog comments or Twitter. Show you care.
You can also respond content that is positive. People appreciate you replying to or retweeting their tweets. This will highlight you both.
How BuzzTalk as online reputation monitor helps on a strategic level
Learn if the message you are trying to spread is the same message as is being discussed by consumers.
Learn how the buzz spreads. If you start listening you know where you are; if you continue listening you come to understand changes.
Find which factors are influential in your industry. Who's talking about your products? Who on Twitter is influential about your product, brand or industry? Is it blogs that are influential, news sites, forums or journals and which ones? Do communities exist discussing your industry, products or services?