How much data is generated every minute?
Data never sleeps. It's generated every minute across different platforms as you can see in the infographic below by Domo and Column Five Media.
Having a hard time catching up with mail after a long weekend? No wonder, as 204,166,667 e-mail messages are sent very minute. Some of these will land in your mailbox.
Do you think people are turning to social media to ask for information? Well, think again as Google is receiving over 2,000,000 searches a minute. It's not a matter of choices, people search and share everywhere! On Facebook, Instagram, YouTube, Twitter and look at how much they shop online: every minute 272,070 US dollars are spent on web shopping alone.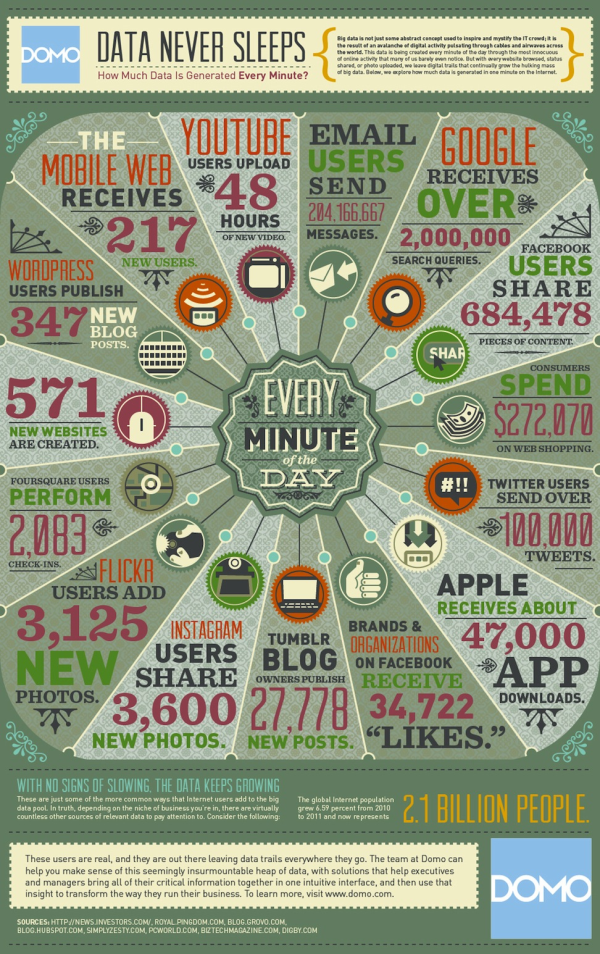 BuzzTalk enables data mining and big data marketing
Imagine having to sift through all this data to get to something valuable. A lot of data is generated, republished or just of bad quality. No wonder we sometimes feel overwhelmed with data. It's actionable information, not data, that we need to make better decisions in our work.
As such we need better filters to categorize these huge amounts of data. We need to be able to look at the quality sources only and to have categories and filters that enable interpretation and analysis.
At Byelex we now scan 53,000 websites on a daily basis and we capture 150,000 tweets. These are 19,000 news sites, 16,000 blogs and 18,000 scientific journals. All of these publications are first translated to English and then tagged tagged using Thomson Reuters' OpenCalais and our own OpenDover tagging engines so analysis can be done on a live basis. This way about 125,000 documents are processed on a daily basis.
Do you know how much data this is? If we would print these publications on regular paper this would be a pile of 1.3 meter every day. This is almost 9 meters of piled paper every week!
All of these publications are stored in a large database which now holds over 46 million documents and 44 milion tweets which can be searched and analyzed using BuzzTalk. This way you can run reports to discover trends in your industry. In an early stage you can prepare your production facilities and marketing campaigns for trends that you otherwise would have missed.