You can learn valuable lessons from benchmarking, comparing yourself with your competitors and seeing who's influential on which media types and sources. As you'll probably know, earned buzz and online fans are correlated with brand value. If not, just read our blog 'Buzz means money as more buzz equals more brand value'.
Today we'll demo BuzzTalk's benchmarking functionality. If you run a report of your own brand it's easy to set up similar reports about your competitors. In BuzzTalk you subsequently run benchmark reports and make comparisons.
Share of Voice in a specific time frame
The following graph depicts the Share of Voice of three brands in the last 12 weeks.  The publications in our selection consist of offline publications (news papers, magazines etc), online news sites, blogs, journals and twitter. Brand 1 clearly stands out and attracts more buzz (amount of publications) than the sum of brand 2 and 3. By the way, we have blurred the names of the companies on purpose.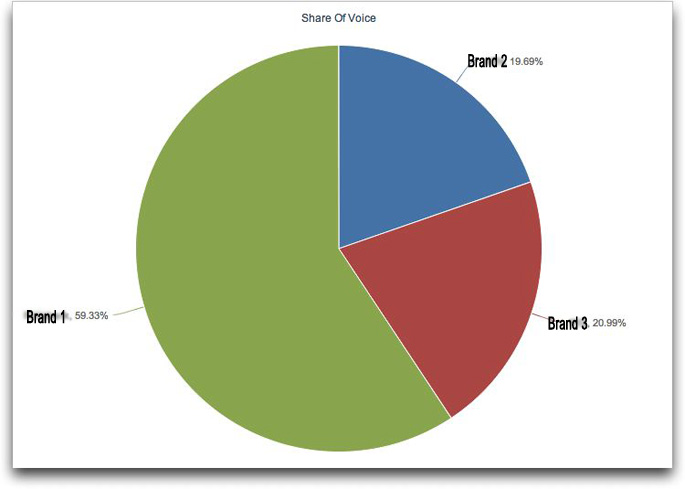 Share of Voice may differ per content type
If we filter by Content Type we discover Brand 1 is dominant on Twitter (66%), Printed Media (60%) and to a lesser extent on news sites (40%). Brand 3 however dominates on Blogs as show below. This shows how Share of Voice can differ per content type. One can hypothesize that the dominant brand 1 can learn valuable lessons from brand 3, reach out to more bloggers and further establish themselves as the most-talked-about brand.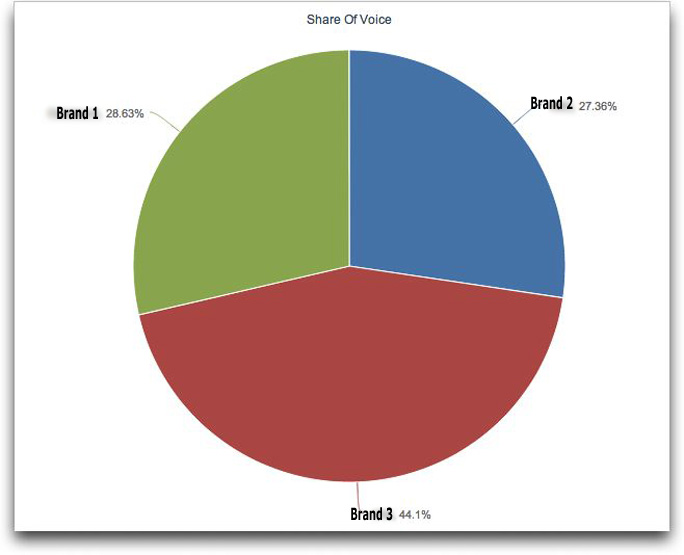 Share of Voice may differ in time
The next graph provides more information as it shows the dynamics in time. See how the largest brand benefitted from a series of publication bursts? One in the beginning of June and the other at the end of June/beginning of July. Brand 1 can run their BuzzTalk brand report to find out the details of these publications, the who, what and where, and compare these against their event or marketing calendar to further explore the the why.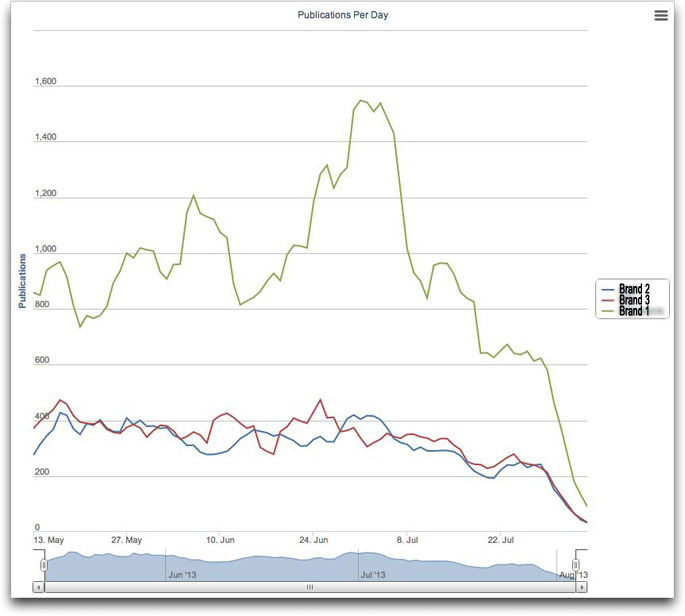 We can filter and benchmark based on:
Total Buzz
BuzzEvents distribution
Sentiment distribution
Reach based on the Advertising Value Equivalent
Let's highlight that last one.
Number of publications vs earned Advertising Value Equivalent
The next graph shows in blue the number of publications showing again brand 1's dominance. In addition, in marine the reach based on Advertising Value Equivalent is shown. This brand has been able to generate over 72000 publications which are estimated at 36 M euro's AVE. The PR of this brand is clearly working.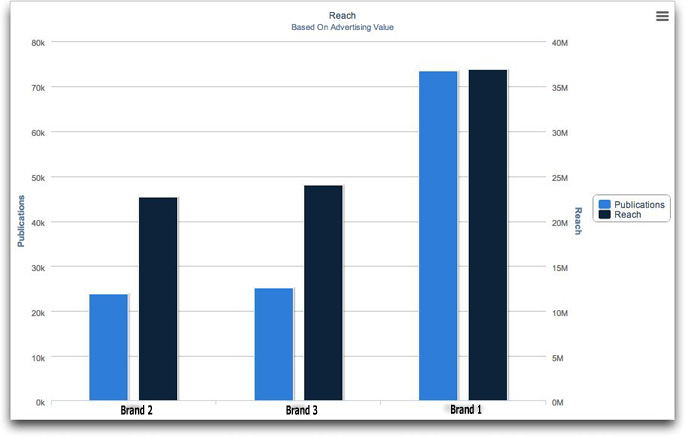 If we look at the other two brands we see significantly a lower amount of publications corresponding to a lower AVE. However – and this is where the lesson lies – these brands generate an AVE per publication that is nearly twice as high as that of the dominant brand. So less buzz, but it's effective buzz.
Clearly brand 1 is dominant but it can learn valuable lessons from their two direct competitors. Using BuzzTalk they can further explore the differences and see exactly in which media the others brands are mentioned, by who, why and in what context.
Do you know how your brand compares?
Media monitoring (not just social media monitoring) and measurement are critical functions for any brand that wants to listen to its market. It's not only customer service and webcare and it's not only PR and communication departments either. Increasingly what is written online (and offline) has implications for sales, product development, HR and the legal department. In this era every business is challenged to evolve to a social business. Are you ready?