Today we introduce a brand new BuzzTalk powered app that captures the semantic web via a gaming interface.
Mining the semantic web

The internet is growing rapidly as methods for publishing content have become freely and easily available to anyone.
This presents opportunities to analyze this content on a high level as it becomes impossible to keep up by reading everything.
The semantic web, also known as the intelligent web, is about structuring data and defining relations. By enhancing content with metadata analysis and new discoveries become possible.
BuzzTalk enables these new discoveries. It mines about 60,000 different sources worldwide (and growing) and enhances them with metadata. This is done via the two most powerful tagging engines: Reuters' OpenCalais and Byelex' OpenDover. Each publication is tagged, translated and enriched with information.
Embracing gamification
Gamification is the use of game-thinking and game-mechanics in non-game contexts in order to engage users and solve problems.It can be used to improve learning processes in educational environments. But also business discover that gamification can greatly enhance use user engagement. Work and play no longer are contradictory. Today it's game on!
Together with Xentronix and Magic Lamp Studios, Byelex (the creator of BuzzTalk) has developed a brand new gaming engine. It is capable of visualizing effects no other gaming engine software can.
Can we learn machines to read and understand the meaning of words?
We've used the new gaming engine to create a fun app called Statistics News Network, or SNN, to play with semantic metadata and find news in an innovative way. SNN combines advances in fact- and sentiment tagging, automatic article retrieval, machine translation, public available photo's and 3D gaming technology into one app. By playing with the SNN app you can stay informed with the latest headlines and original stories from the USA, United Kingdom, Germany, France, the Netherlands or the rest of the world.
Questions you can ask this BuzzTalk powered app are for instance:
Which company in the field of computer technology was most negative in the news in the USA last week?
Which person in the field of football was most positive in the news in Germany yesterday?
Give me a top 10 of organizations most discussed in the field of politics in the Netherlands last week.
List the most important persons, companies and organizations in a subject domain of your choice.
When you fire off a question via the gaming interface two webservices are called:
BuzzTalk for the top 10 publications based on your search criteria.
Bing, the search engine, for finding a picture to match the query.
Here's a video that shows the user interface of the SNN app:
This is all fully automated and aims at helping people deal with information overload. The big questions are: Can we teach machines how to read and 'understand' the meaning of the words? Can we have machines determine which information we want to see? Can machines enable you to know what's happening in the world without having to read everything?
Find out what's happening in your world with the Statistics News Network app
To help you get started here's a concise user guide but if you are a real gamer you probably want to find out how it works by yourself.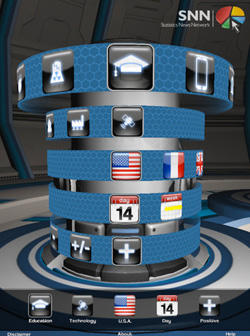 Make a choice on each selection ring and start at the top. With a one-finger swipe you rotate these rings. To select you just tap.
Select a subject domain and choose from: Business, Medical, Law, Politics, Car, Computer, Software, Football, Terrorism, Catastrophe, Education or Phone.
Select a sub category and choose from: Person, Industry Term, Organization, Company or Technology.
Select a country and choose from: U.S.A., France, Great Britain, the Netherlands, Germany or 'all countries'.
Select a period and choose between: Yesterday or Last week.
Select a sentiment: Negative, Neutral or Positive.
Next swipe your finger from below to the top to retrieve the headlines that match your query. These headlines are extracted from the most visited sources on the internet. As the first picture is shown the next 9 are retrieved. By double tapping on a picture you zoom in and discover three matching headlines. By tapping on a headline you are sent to a browser screen where you can read the full article.
How to download the Statistics News Network app
If you have an iPad, iPod touch or iPhone you can buy the StatisticsNewsNetwork app via the website or directly from the App store.